We could not do our work without the support of some fantastic people! Below are some of those who gone above and beyond to support our work! Thank you!
If you are interested in fundraising for us, get in touch!
Final Years "Results" Support LTAMC
The 2022 graduates from Dundee Dental School have generously donated to LTAMC the £56.27 proceeds from their Final Year Dinner to LTAMC. Along with the donation, the committee from Dundee Dental Student Society 2022 said, "we decided to donate to LTAMC as it was one that many of us in Dental School have been closely involved with, and that we would like to make a contribution to before leaving Dental School."

LTAMC wishes to thank these newly qualified dentists (seen here celebrating on their exam results days) for their generosity and wish them all the best as they start the first steps of their dental careers. Our campaign will continue thanks to their support both fundraising and in educating patients and the public about risk factors and early detection.
Making Noise About Mouth Cancer
The Dental Students from Dundee University as ever were big supporters of Mouth Cancer Awareness Week (MCAW) which was held in November 2021. The pandemic curtailed the events compared to previous years but there was no lack of enthusiasm. During the week, kitted out with LTAMC t-shirts, signs, leaflets and the new animation to hand, students volunteered outside the Union entrance to spread the word about mouth self-examination and early detection to anyone who would listen!
Not content with this action they held a fundraising raffle and always popular Acoustic Night which was a roaring success with the talent of the students on display and they made a total of £1513.45 to donate to LTAMC!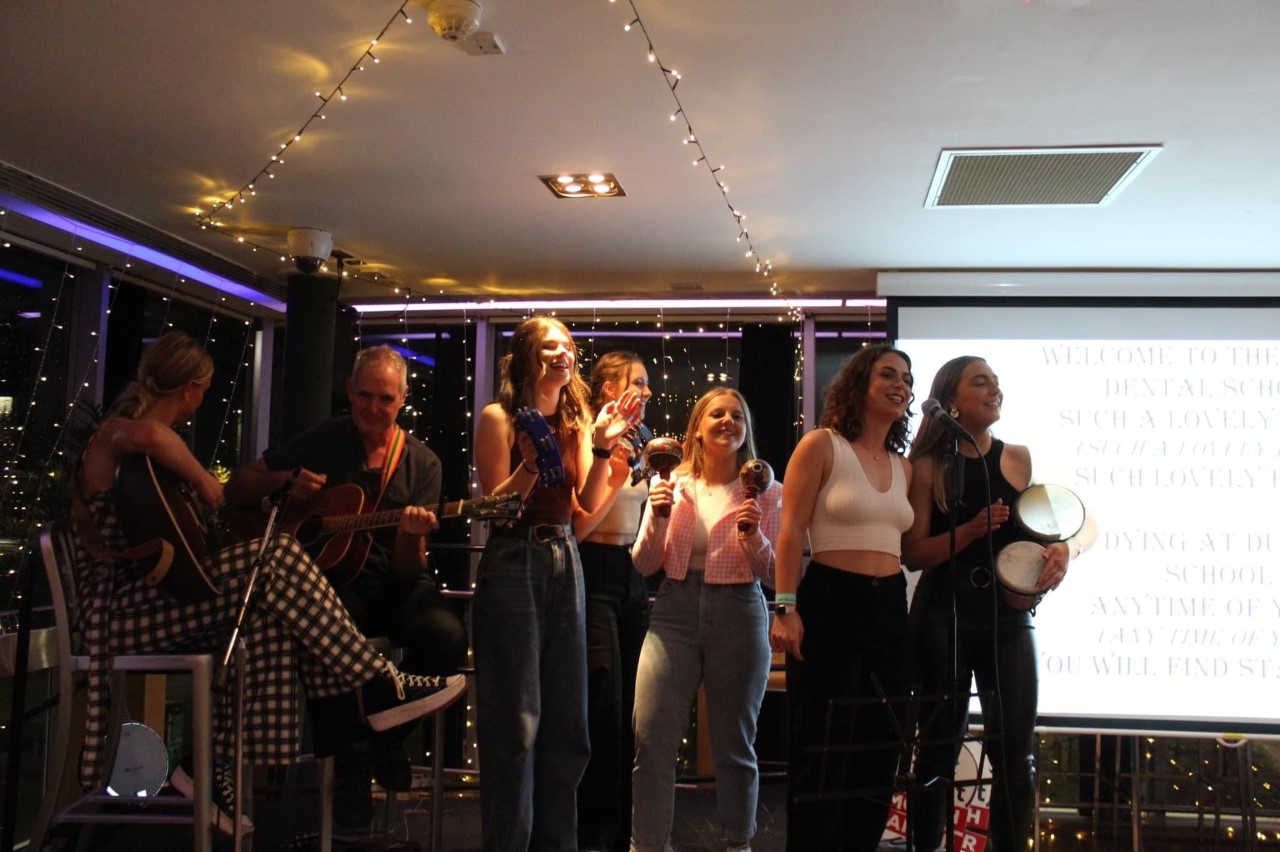 Huge thanks from all at LTAMC. These efforts keep us on the path to help catch mouth cancer early and improve the chance & quality of survival.
Beth's Runaway Success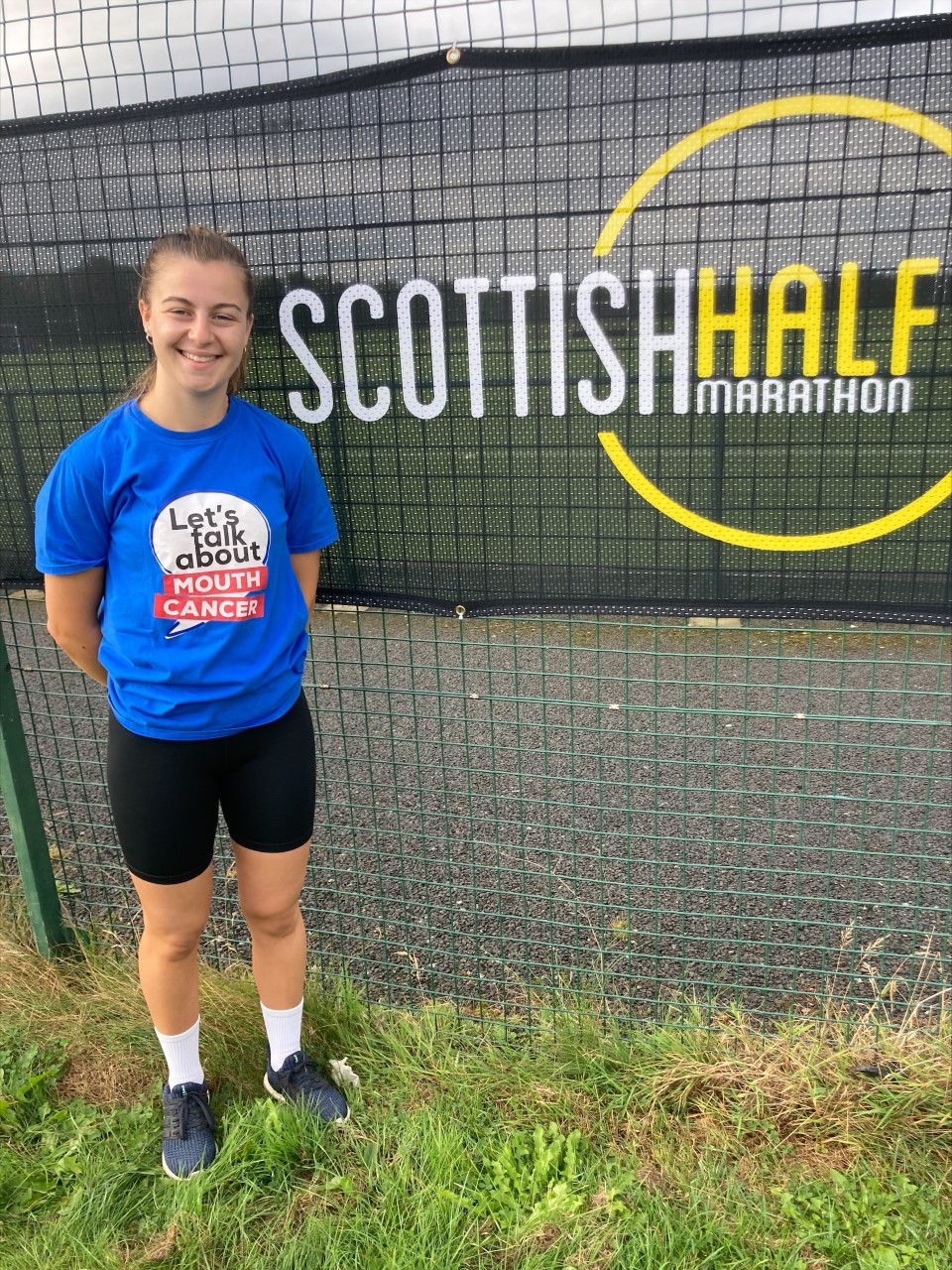 Second year Dundee Dental Student, Beth Heaney, ran the Scottish Half Marathon on Sunday 19th September, in memory of her uncle who passed away following mouth cancer nearly 3 years ago. Her time was an astonishing 1hr 46m and she has smashed fundraising target! So far £1,656.25 has already been donated on the VirginMoney page and there are more offline donations to come.
Well done Beth, we are delighted with you superb effort!
Brushing up on Fundraising, no Plastic Down the Tubes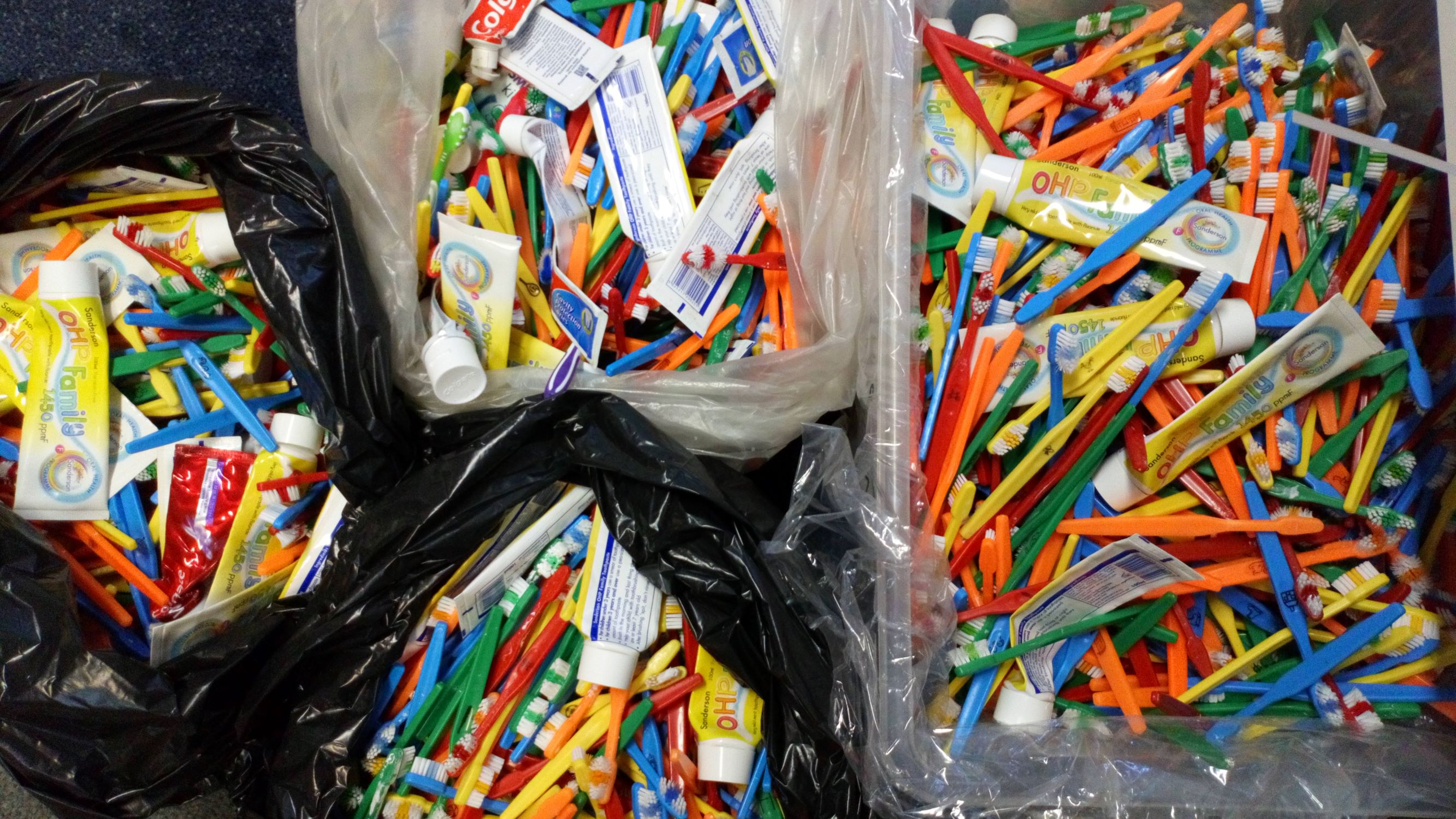 There's value in plastic! The NHS Borders Oral Health Improvement Team recognised this and wanted to save on waste. So, they joined forces with Terracycle® and through their collections raised £89.15 which they kindly donated to us.
Alongside the donation Helen Brand from the Oral Health Improvement Manager said to us, "NHS Borders Oral Health Improvement Team recycle all toothbrushes and toothpaste tubes used within our Oral Health Programmes and those brought from home to our collection points in Health Centres, care establishments and schools using the Colgate® Oral Care Recycling Programme. Using this scheme we collect points with Terracycle® which are converted to money then donated to a charity of our choice. We wanted to support Let's Talk About Mouth Cancer as their goals, awareness raising and resources linked to mouth self-examination are ones we share and use regularly in our programmes of work
Both locally and nationally within Childsmile and Caring For Smiles Programmes we are aware of sustainability and the detrimental impact plastic has on our environment. Therefore, we ask schools, care establishments, friends, family and colleagues to collect used toothbrushes, toothpaste tubes and packaging for collection by Terracycle to be separated by polymer type, cleaned and extruded into plastic pellets and made into new recycled products."
Thanks to Helen and the whole NHS Borders Oral Health Improvement Team for their work to promote oral health and at the same time improve the environment while raising money for our fight against mouth cancer: a win, win, win situation for all!
Dundee Students have the X-Factor
In November 2019 the students from Dundee Dental Students' Society and Dental DRAMS organised an Acoustic & Quiz night to raise money for us. We're delighted that they managed to make a grand total of £646 to donate to our cause. Thanks especially to Matthew Taylor and Gigi Gan Jia Hui for organising such a well-attended and enjoyable event.
More photos can be seen on the Dental DRAMS Facebook page.
A "Grand" View from the Top of Ben Ledi
In October 2019 staff from the Clyde Bergemann Scotland office opted for a change of scenery. They organised and took part in a hill walk in support of one of their colleagues currently facing a difficult time and to raise awareness for Let's Talk About Mouth Cancer. On a cold crisp Sunday, they climbed Ben Ledi in Bonny Stirlingshire. Over £1000 has been raised in donations and GiftAid so far.
A grand view indeed from the top and over a grand towards LTAMC's continuing awareness and educational campaigns. Well done to everyone who took part and thank you to all who have generously donated.
LTAMC "Favoured" by Newly Weds
Supporters Lynsey & Fraser donated to LTAMC in lieu of favours at their recent wedding. We want to thank them for choosing us and wish them the best for their future together. Lynsey sent us this kind message along with the donation:
"We celebrated our wedding on 30th June 2019 and instead of favours we gave a small donation on each guests behalf to Let's Talk About Mouth Cancer.
As a dentist, I have seen the effects of this awful disease on patients and their families. This is why I fully support the crucial work that LTAMC do to raise awareness and promote early detection. Things are getting better but there is still so much work to be done – it is such a worthy cause.
Class of 2018 Graduate and "Honour" LTAMC
This year's graduates of Dundee Dental School have generously donated the proceeds from their Final Year Dinner to LTAMC. In their letter explaining why they chose to donate Dundee Dental Student Society 2018 said, "Let's Talk About Mouth Cancer provided us with invaluable training throughout our course and we wanted to give something back to the charity that has always had close links to the Dental School."
In total they raised £550 which will help continue to fund our popular undergraduate training programmes and other work. LTAMC wishes to thank these newly qualified dentists for their generosity and wish them all the best as they start the next stage of their careers. We hope they will continue to support the work of the charity and our fight against Mouth Cancer.
Dental School Fashion Cashes in for LTAMC
Thanks to Desmond Manangazira, a first year student at Dundee Dental School, who has raised £60 so far for LTAMC by donating proceeds from a recent order of Dundee Dental School hoodies for his fellow students. Desmond (pictured above) was helped by School Student President Emma Ward to make the order and is seen here showing off the new hoodies with classmates Sara Khan and Stewart Bennett.
Jeni Rankin
Jeni Rankin saw her doctor about a sore on her tongue in November 2016, after her dentist had been unconcerned in August. She was fast-tracked for a biopsy in December and had surgery in January with further surgery in March. Still the cancer persisted and radiotherapy in April did not contain it. She died on 10th June 2017. She was very keen that people be more aware about mouth cancer and requested that gifts be collected at her funeral for "Let's Talk About Mouth Cancer." With increased awareness she hoped people with a sore, ulcer or lump that doesn't heal on their tongue (or elsewhere in their mouth) would get it checked.
It is our aim that stories like this never occur. We were very grateful for the collection gifted to LTAMC in Jeni's memory and will continue our fight against mouth cancer.
Bake Sale Raises "Dough" at Edinburgh Dental Institute
The Paediatric Department at the Edinburgh Dental Institute recently held a bake sale which raised an amazing £111.70! Many thanks to all staff from the department who donated baking and to all those who enjoyed these delicious bakes.
For I will walk 10,000 steps…

The Oral Health Promotion Team from NHS Borders set themselves the challenge of completing 10 000 steps per day over the month of June 2017. Each participant paid a £2 entry fee and was "fined" 50p each day they missed their 10 000 step target. The 11-strong team used pedometers or fitbit's to monitor their step count. By the end of the challenge they had raised £76.10 for LTAMC.
This great fundraising idea was part of NHS Borders Healthy Working Lives initiatives to boost staff fitness & wellbeing as well as raise money for a charity. Fantastic! Why not try this at your workplace?
Many thanks to the participants some of whom are in the photograph: Alison Colvin, Lisa Nichol, Cath Shiells, Alison Forsyth, Helen Brand, Susan Davidson, Helen Hoggan, Sandra Howitt-Tynkowska, Carol Douglass, Emma Gobb and Aileen Richardson.
Jacquie is walking the length of the country from Lands' End to John O'Groats. She is raising money for three charities: Let's Talk About Mouth Cancer, Breast Cancer Now, and the National Rheumatoid Arthritis Society. She set off on the 5th of March 2017 and is aiming to get to the end-point by the summer! She is being helped out by her husband Pete, who is following her in their motor home! She is one amazing woman and we are all in awe! Good luck Jacquie and thank you so much from all of us!
You can donate to support her cause: https://mydonate.bt.com/fundraisers/jacquiereilly1
2016: Glasgow Women's 10k. Elaine Graham
Elaine is a staff nurse working in a Head and Neck Surgery ward in Scotland. She works with mouth cancer patients every day. She has chosen to run the Glasgow Women's 10k to raise awareness of Mouth Cancer and support our work to promote early detection.
Coatbridge Family Dental Care along with some of their friends in Dundee Dental Hospital and NHS24 have taken part in the Edinburgh Marathon festival! They have raised a massive £466 to help with our ongoing work! Thanks so much guys and a massive well done from us! Keith ran the Half Marathon while Gillian, Susan, Louise & Suchi ran The Hairy Haggis Marathon as a relay team!
2015: Edinburgh Marathon Festival: Salma Daou
Salma completed the Edinburgh Half Marathon in support of our work. She raised £350! Salma is now a Dentist based in practice in London. Thank you Salma!